The solution to your problem... and more
> 3 Rolls
Capacity: 0.5-4 mm
Useable length: 1-2 m
Developed in 2009 based on the RCS but for thin sheets, the RCE bending machine is a three-roller symmetric bending machine with double prebending (no need to turn the sheet over), with the full range of integrated features such as cone rolling.
It satisfies the thin sheet requirements of the industries of today and tomorrow!
Although versatile, this 3 roll bending machine is particularly intended for thin sheets (from 0.1 to 5 mm) of all materials: steel, aluminium, stainless steel, composites, etc. Like all symmetric three-roller machines, it does not clamp the sheet, and provides better results than a four-roller machine for cone rolling and prebending.
Available in a manual version as well as electronic control, CNC, and EasyRoll, it will also fit in with your Industry 4.0.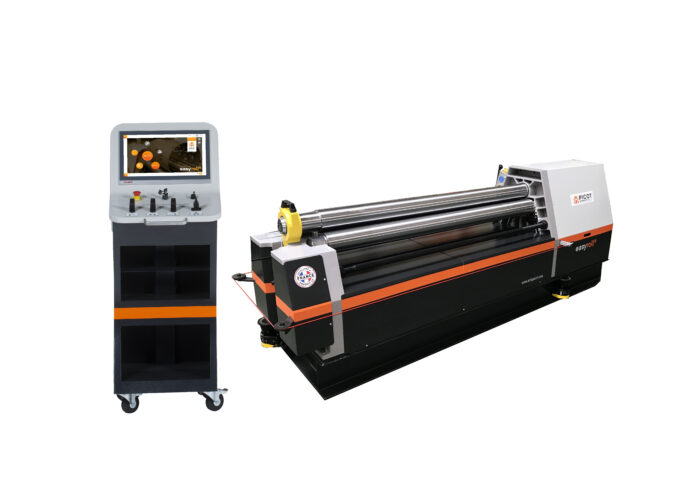 We meet your needs…
Below is a list of sectors and trades for which the RCE is especially suitable.
AMB PICOT offers you its model RCE specially
adapted to the rolling of thin metal sheets. This roll bending machine, 100% hydraulic, is offered in several types : standard, with control desk
with numerical control or with numerical control and rolling assistant Easyroll.
Its affordable budget and its ease of use
makes it a powerful tool for your sheet metal work.
AMB PICOT advantages :
100% hydraulic roll bending machine type RCE/RCS dedicated to the rolling of thin metal sheets.
No laminating with our 3 powered rolls technology.
Wide distance between rolls.
Perfect pre-bending of both edges without returning the metal sheet.
For an easy rolling of Aluminium Composite Panels,
of the art numerical control including our bending assistant Easyroll, which will allow you to benefit from the material database specific to these materials.
This machine is also available in other simplest configurations, with or without numerical control.
AMB PICOT advantages :
Material data base specially adapted to the rolling of Aluminium Composite Panels (in Partnership with 3A Composites).
Rolls equipped with polyamide rolls for the rolling of Aluminium Composite Panels type cassettes.
No laminating ; the rolling does not damage the fragile surface of the material.
3D forms rolling.
Check out the RCE BENDING MACHINE in details
The whole machine with its specific technical characteristics, and our design choice.
Technical details >